When it comes to repairing concrete floors, we need speed, reliability, ease of execution and durability over time. There are many quick-setting products on the market; however, each has some limitations: this is why we decided to develop Crono, an innovative high-performance mortar that allows you to reopen to traffic in a few hours.
Whether it is repairing an airport runway, a factory loading ramp or simply a driveway at home, you are always faced with the problem of the maximum (and minimum) application thickness allowed. Often we need to do the application in several layers, losing the advantage of ease and speed. 
The minimum thickness that the material can support is crucial when making ramps, fittings, and slides that must go to the featheredge.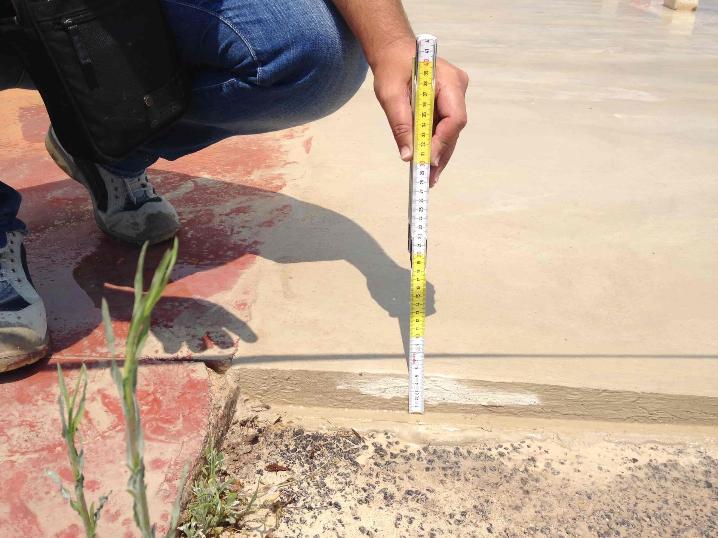 Crono can be applied with thicknesses from 0 to 10 cm.

When patching a hole, good practice requires that you chisel the edge of the broken concrete to create a step of at least 1 or 2 centimetres, so that the repair mortar never falls under the recommended thickness, as it would happen if the edges were jagged. When we are really in a hurry, we risk disregarding this prescription: in a short time, there is an inevitable breakdown of the repair that starts right from the edges and then spreads throughout the area.
In all these cases it is much safer to use a mortar such as Crono, which can go from 0 to 10cm in one coat.
Another dilemma we face when fixing industrial flooring is: do I choose a thixotropic or self-levelling mortar? Do I choose a product that allows me to quickly shape ramps and fittings, operate even if there is a little slope or a product that I can pour directly to fill the hole and obtain a flat and smooth surface without any efforts?
And if we are in cold winter, or summertime under the scorching sun, how do the materials behave? Generally we have to use different products, and this can be a complication on the construction site. With Crono, it is possible to obtain both a thixotropic and self-levelling compound, extend the workability time during the summer period or accelerate the setting in the wintertime according to the construction site's needs. We can obtain this flexibility by using Livella, Lento and Rapido, three additives in sachets that we can add to the mix to change the behaviour of Crono with great ease.
Will it stay bonded? We know that concrete tends to shrink and that the thermal expansion of the summer/winter cycle does the rest, working at the interface between the old concrete and the repair. This is perhaps the most critical issue of all: the durability of the restoration.
For this reason, in Crono, there are three specific actions: the use of low-shrinkage types of cement, the addition of polymers that increase adhesion and impermeability, and finally the use of innovative amorphous metallic fibers that give excellent stability and flexural strength.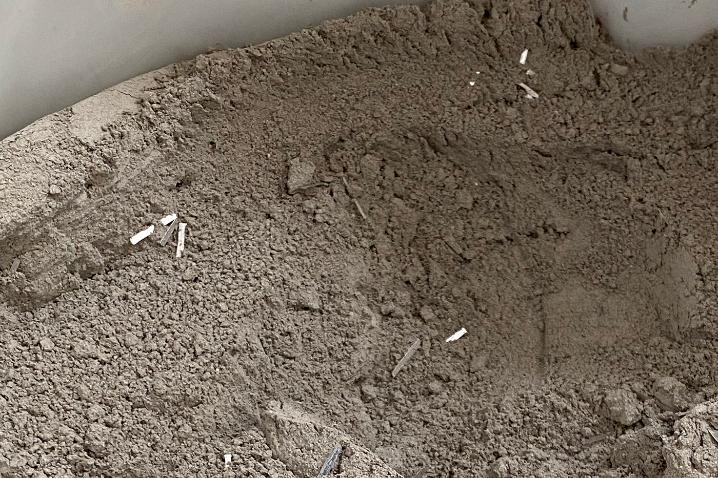 Crono powder with amorphous metallic fibres 1 cm.

With all these additives, Crono could seem a too "chemical" product, in the negative sense that common language assigns to the term, and instead, it is just the opposite. Since its conception, environmental sustainability and ecology have been the lines product development guide. For Crono, we have chosen cement types that are fired at much lower temperatures than those typical of Portland cement, thus limiting the consumption of fossil fuels for their production and saving CO2 emissions. The polymers used are the latest generation ecological, derived from alternative sources to oil. Inside Crono there are recycled materials such as micronized glass, and the product itself is contained in recycled and recyclable plastic buckets.
In conclusion, how can an eco-sustainable product be resistant enough to repair an airport runway, a motorway exit, redo a construction joint or a loading ramp where forklifts or even trucks pass?

Here are the numbers: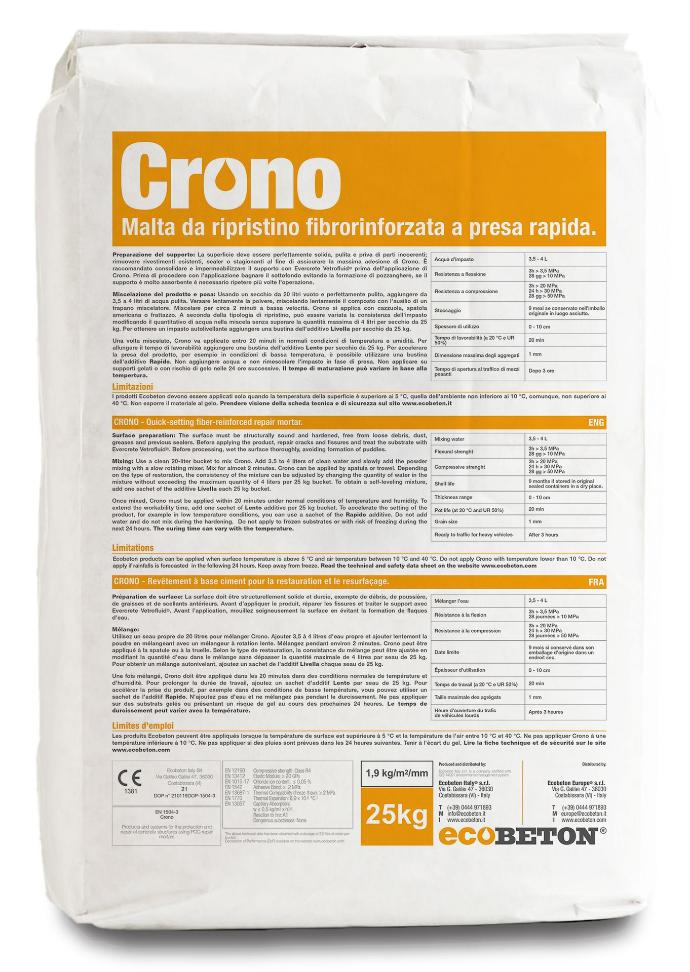 Bond strength:
    • Greater than 2 MPa.
 
Compressive strength:
    • Greater than 20 MPa after 3 hours
    • Greater than 50 MPa at 28 days.

Flexural strength:
    • Greater than 3,5 MPa after 3 hours.
    • Greater than 10 MPa at 28 days.