You need to install a cement coating and you're afraid it won't stand up to your teenage son's parties? Has the architect proposed to cover the shower as well and the thought of cleaning it terrifies you? Here is a small guide to help you make the right choice.
Mineral cement coatings are naturally porous and therefore absorbent materials. For this reason, micro-cements need to be treated with a waterproofing layer at the end of their processing, which usually consists of a wax, a water repellent or a transparent resin. The choice of the final protective coating is crucial to preserving the handcrafted beauty of a spatula job over time, so let's see what the main features to consider are.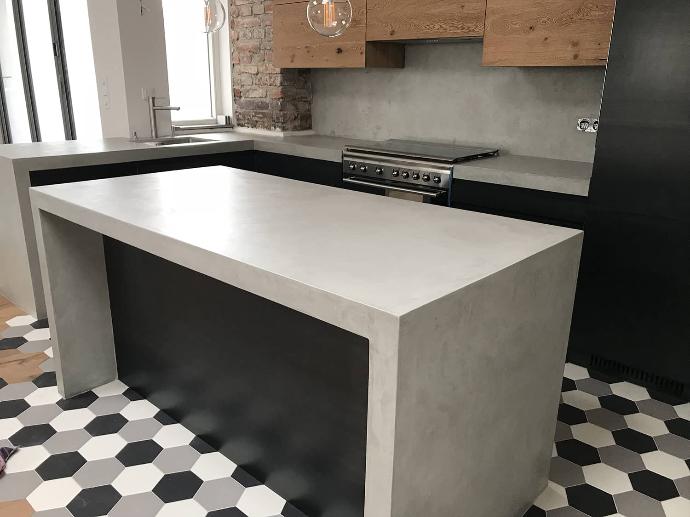 A kitchen top coated with Microbond®. In areas such as the kitchen, it is essential to apply a highly effective cycle of protective agents.
Wax on, wax off!
The technique of thin concrete coating is also known as 'béton ciré', or waxed concrete. The use of wax is an established technique, which is also used on other types of flooring and it guarantees good results in terms of impermeability and ease of cleaning. Unfortunately, as well as being the shortest lasting treatment (it has to be renovated at regular intervals), it tends to alter the colour of the coating and is certainly not suitable for areas exposed to water such as showers and sinks.


Water repellents.
These are impregnating compounds that use an electrostatic repulsion mechanism to prevent liquids from wetting the surface. Basically, if some water is poured on a surface which was treated with a water repellent, the liquid will break down into many droplets. Again, their effect vanishes over time, and they generally do not stand up well to aggressive liquids such as coffee, lemon and others substances which are commonly used in a household.


Transparent resins.
Also called 'sealers', transparent finishes are by far the most widely used. There are several families of resins, epoxy, acrylic, polyurethane, methacrylate based and so on. Before considering the differences between the types, it is good to know that there is a fundamental distinction between solvent-based and water-based sealers. Solvent-based sealers are able to leave a thicker, and therefore usually more protective, layer on the micro-cement. On the other hand, the surface will be shiny and 'plasticky', and this largely ruins the material and natural effect of the coating.


---
For protection to be effective and at the same time aesthetically pleasing and easy to apply, it meet all the following requirements:
UV resistance.
The sun also tans transparent resins in the sense that it turns them yellow. The resins that suffer most from this problem are epoxy resins, which are therefore often unsuitable for protecting our cement coating. Even if we use a non-yellowing resin, such as polyurethane, it is advisable that it contains UV filters in order to preserve the colour chosen for the micro-cement. In any case, as with wood and other materials, parts of the floor covering that are protected from the sun's rays for a long time, for example by a piece of furniture or a carpet, will in the long run have a brighter colour than the rest of the floor.

Waterproof and "party-proof".
It is a question of time. Sooner or later that ketchup stain spilled on the floor will pass through the protection, irreparably impregnating that continuous coating which cost us many efforts. But don't despair! While it is true that the impermeability of a resin is measured in hours, it is also true that there are formulations that can withstand days or even weeks before allowing substances to pass through them. I'm talking about coffee, cola, lemon, wine, acetone... they are all liquids which are commonly used in a household and are actually very chemically aggressive substances. Polyurethane resins perform this task very well, especially if they are two-component resins.
By combining an acrylic resin, which is very good for waterproofing, with a polyurethane resin, we will obtain safe protection even in showers, washbasins, Turkish baths and any other place that is frequently exposed to water.

Scratches and wear.
Whether it's the kitten who decided to sharpen his nails right on the freshly coated wall, or a chair dragged like only a teenager can, it's good that our transparent sealer is well resistant to scratching and scuffing. This is achieved by means of polyurethane resins which are reinforced with "fillers", i.e. mineral flours that make the coating sufficiently resistant.

Glossy or matt?
According to your taste, but better if matt. The handcrafted and somewhat 'natural' aspect of micro-cement is much more evident. In any case it is essential that the selected sealer does not alter the intended colour of our coating, making it darker or, even worse, by changing the original colour.

Surfaces can be driven over?
Yes, there are protectors that can be applied outdoors, including some that can be driven over. If used in garages, care must be taken with the interaction with hot tyres (hot tyre pickup). After driving the car for a while, particularly at motorway speeds, the tyres are likely to overheat and expand due to their heat. Parking the car in the garage can cause heat to be transferred from the tyres to the coating. As the tyres begin to cool down, they also contract a little bit, gripping and pulling the surface of the coating, causing sealer spots to be removed from the micro-cement floor.
Fortunately, GiGi Sealer comes to the rescue. It is a polyurethane resin-based protective agent that can also be used on surfaces which can be driven over.

Eco-friendly.
Not least, environmental and health sustainability is a must. In paints, varnishes & similar, it translates into the measurement of VOCs (Volatile Organic Compounds). They are very strictly regulated by the European Community, and in our opinion their value should be zero.
Resins are normally derived from fossil sources (petroleum products), but recent technological developments made it possible to produce plant-derived bio-resins, which will soon be available on the market. Even isocyanate, which is one of the two key components of polyurethane resin, will soon be replaced by more sustainable and healthier compounds.

As you can see, there is no single product that meets all these requirements at the same time, so it will be necessary to work using a 'mixed cycle', overlapping layers of sealers with different features.

--- At Ecobeton we developed a mixed cycle, consisting of an acrylic sealer and a polyurethane sealer. This allows us to quickly apply all protective agents and secure the coating. The acrylic part, available as a single-component liquid (Cerbero Base) or as a spatula-applied cream (Cerbero Base Gel), can also be applied to relatively fresh microcement. Cerbero Base ensures water resistance, preserves the original colour and evens out the absorption of the entire surface. After a few hours, apply Cerbero Sealer (Cerbero Sealer is a two-component polyurethane protective coating with high scratch and scuff resistance).

The Cerbero system is extremely matt (Gloss 5) and resistant to chemical aggression, as shown in the table below: